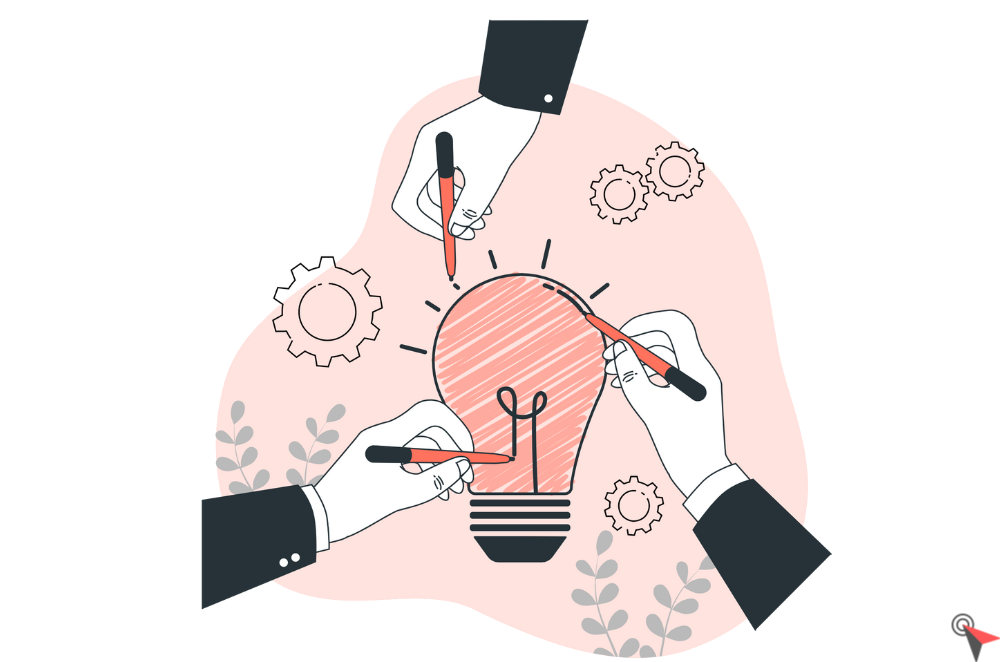 Definition of brainstorming
In a company, brainstorming is a technique that consists in bringing together a group of collaborators so that they collectively produce a maximum of new ideas on a given theme. "Brainstorming can be organized each time a satisfactory and ready-made solution to a problem is missing", analyzes Isabelle Jacob, director of the firm Iris Consultants and of the Iris center for training in creativity.
The problems that can be solved by brainstorming are varied. It can be an innovation process: new product, new concept, new advertising campaign. In this case, the goal is to put the creativity of all the stakeholders to work. It can also be about launching a project. Before undertaking it concretely, getting together makes it possible to identify the different ways of going about it.
We can also wonder about the future in general: where is the company going and what new directions will it have to take to meet the various technological, societal and economic challenges? "Brainstorming can also solve management problems on a daily basis", adds Isabelle Jacob. The manager examines with his team how to improve such a process, such a product or such a practice."
While brainstorming is developed in the professional world, it originally comes from the world of advertising. It was theorized in 1939 by Alex Osborn, vice president of BBDO, a New York advertising agency. It is therefore as much a management tool as it is for creating advertising or helping to carry out market research.
Brainstorming Method
How to brainstorm? The success of a brainstorming session is based on several fundamental pillars: a small motivated group, the creation of a creative state of mind, respect for the rule of deferred judgment, the proposal of ideas, their confrontation with reality and then the follow-up on ideas.
A small motivated group: Brainstorming sessions require a lot of energy from the participants: "They must engage cognitively but also physically and emotionally." Favoring voluntary employees is therefore advisable because, to be effective, brainstorming must be carried out by people who are committed to solving the problem. The approach can nevertheless be imposed when it is a meeting internal to the team, led by the manager. "The optimal group size for a session of this type is 8 to 10 people", notes Isabelle Jacob. We can also use certain techniques used in brainstorming when the group is smaller, but it is then more of a discussion at the corner of the table.
Create the conditions for creativity: The first stage of a brainstorming session takes place upstream of the actual production of ideas. Start by clearly explaining why the people present are gathered and what is expected of them. "They must appropriate the issue, want to solve the problem posed. During this preparatory phase, they must also formulate several ways of posing the problem. The objective is to open up the representation that they have of it. make". This midwife role is up to the facilitator: through his questions, he must help the participants to change their frame of reference. A few warm-up exercises to awaken creativity can be carried out: find an odd one out among random words,
The rules of deferred judgment and constructive criticism: Who says creativity session does not say gathering where everything is allowed. Quite the contrary. "A meeting where everyone pulls out their rifle as soon as an idea is put forward kills all the energy of the participants. In brainstorming, the basic principle is on the contrary the rule of deferred judgment", explains Isabelle Jacob. In order not to curb creativity, we must preserve phases where we produce without trying to evaluate ourselves. Then temporarily put aside the criteria for selecting solutions that we have more or less consciously set for ourselves. "The more we put forward these criteria, the more we become dry", testifies the consultant. Everyone's ideas must initially be able to coexist without value judgment. "Better to favor the yes and banish the yes but", summarizes Isabelle Jacob. In a second step, the critical thinking of the participants will of course have to be used. However, "it will have to be transformed into constructive and proactive criticism, warns the consultant for whom it is necessary to avoid saying "I do not agree" but rather "This solution has such advantages but I also have such fears".
Propose ideas: Many techniques can mobilize creative thinking: It is always a matter of looking for stimuli related to the problem which will trigger solutions. We can proceed by analogy: the problem is transposed into another universe. For example, if it is related to the concept of openness, we can explore what openness inspires us in the field of plants, economy, cinema, history. It is also possible to resort to waking dreams: the participants let their imagination wander in a story related to the problem. It is also possible to proceed by combination: the research object is broken down into two, for example for a cosmetic product, the packaging, and its use. We list the different formats and possible uses then we cross them with each other to find a product of a new type. Several techniques can obviously be used successively during the same brainstorming. To maximize the results of this work, it is necessary to vary the various modes of production of ideas. "We can alternate speaking with writing, even drawing, mime, and collage of photos. We can work together and work individually or in small groups of two or three. production phases where you take your time and those where ideas are bombarded", lists Isabelle Jacob. The different personalities present will thus have a better chance of feeling at ease and expressing themselves. "Only stick to
Confront ideas with reality: During this stage, participants are invited to project their idea as if they were becoming a reality. What are the strengths and weaknesses? What resistance to change would be likely to appear? What skills should be acquired? "During this phase, which is always a matter of creativity, the selection criteria set aside at the beginning are recovered and each idea is weighed against the others", specifies Isabelle Jacob. At this moment, the participants' critical thinking must be solicited, not to oppose the idea but to examine what it entails as positive points and as negative points.
A follow-up of the ideas put forward: To be truly effective, a brainstorming session must be the subject of real follow-up. After selecting the ideas to keep, it is strongly recommended to write summary sheets for decision-makers who did not attend the meeting. "These sheets must explain why the idea is good, how it offers opportunities and what needs to be done to make it possible." This work of synthesis may possibly fall to the leader of the brainstorming alone. To be effective, results must not remain a dead letter. "Eventually, no one would want to participate because they would feel like they were giving their energy for nothing." Follow-up, if only to explain why none of the ideas will be translated into action is therefore essential. Similarly, it is necessary to give signs of recognition of the work carried out. And under no circumstances let a line manager take sole responsibility for the result of this collective work.
Brainstorming game and example
Specialists in marketing, coaching, market research, the management or project management are teeming with ideas to make the brainstorming process a success. Here are some game ideas that are very easy to set up. Of course, it is possible to invent games depending on the context and the solution to be found.
Be someone else (propose participants to put themselves in the shoes of a celebrity)
Place yourself in the future
Work in several teams to share ideas
word associations
Expose a concept in 140 characters (like the Twitter of the past)
Example of brainstorming
Conclusion
Brainstorming is very common in co-operates and MNCs to bring teams together to solve the problem productively. This is very important for team members to work together. It is also become an effective way to recruit new members to the board. Hope you get enough knowledge related to brainstorming from this article.
Read More:
1) December Global Holidays in 2022
2) SQM Club: What is it, Facts, Figures in 2023