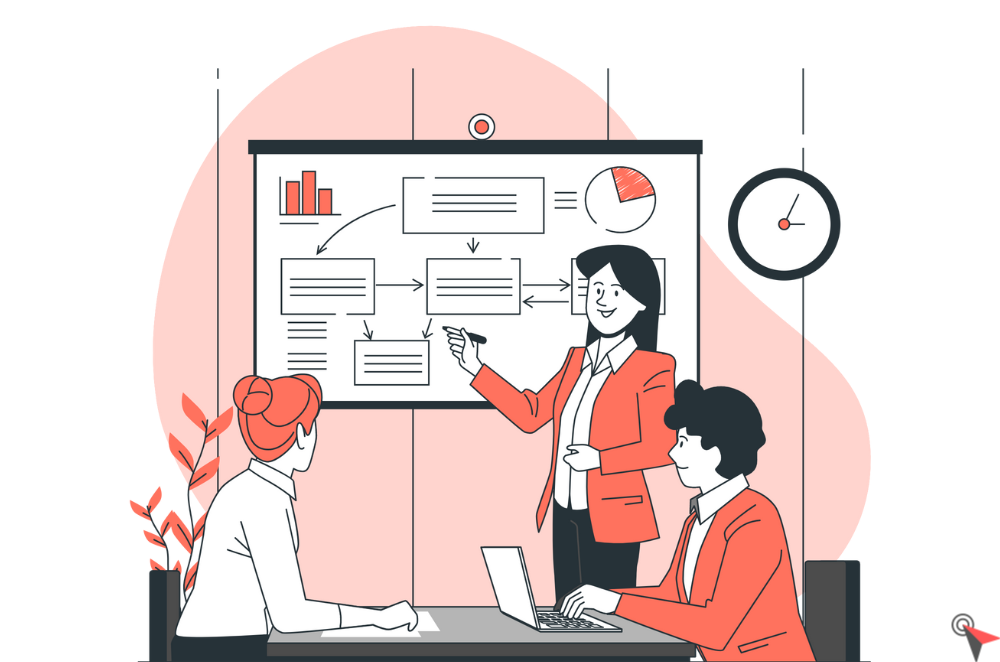 We all know those boring meetings with (rather) soporific slideshows … Taking care and energizing your presentations is therefore inevitable to avoid losing your audience.
To do this, nothing could be simpler: software specialized in the creation of slideshows can help you produce creative and dynamic presentations!
To support you in your search, discover our selection of the 9 best presentation software.👇
Our Selection Criteria
To make this selection, we relied on several criteria:
the ease of use to save time and make successful presentations without being an expert in the field,
compatibility with different devices to be sure to be able to present your slideshow without any problems,
the price which must remain reasonable.
To create creative and dynamic presentation slideshows, you are looking for the best software. We have therefore taken into account the different elements that will be really useful to you:
the possibility of working collaboratively, to perform better as a team;
the provision of a library with several templates, images, forms, etc.;
access to additional features to facilitate the creation and distribution of slideshows.
Comparison Table Of The 9 Best Presentation Software
| | | |
| --- | --- | --- |
| 🖥 Software | 🔎 Main advantage | 💰 Price |
| Google Slides | Powerful collaborative features | Free |
| Keynote | Design made in Apple | Free |
| Power point | Reference in the middle | From €4.20/month |
| Prezi | Interactive and creative presentations | From €10/month |
| SlideBean | Automated creation platform | From €8/month |
| Slides | Available in open source format | Free, but limited versionPaid offer from $5/month. |
| Visme | Complete creation platform | Free, but limited versionPaid offer from $12.25/month |
| XMind | The mind map creation tool | From $59 per year |
| Zoho Show | Complete and collaborative platform | Free tryPrice on request |
Google Slides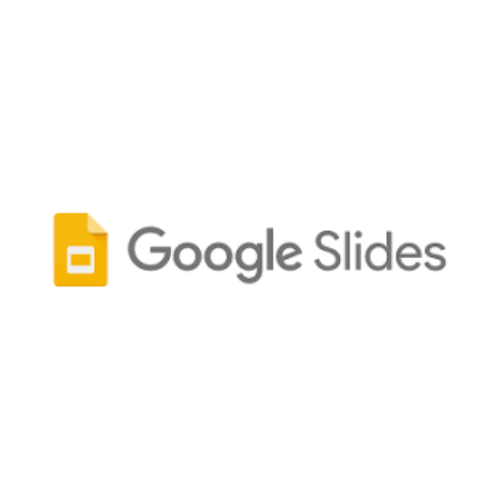 Google Slides is the presentation slideshow creation tool created by the American giant Google. This software, available for free, includes both videos, the creation of diagrams, and also the addition of animations to your slides.
Advantages and strengths of Google Slides
The software is available for free on the internet. You just need a Google account to be able to use all the features of Google Slides.
Regarding the collaboration part, several users can work on a slideshow at the same time and even have access to a group discussion.
Different predefined templates are accessible in the tool, always free of charge, to allow you to create professional and high-performance slides.
What we love about Google Slides
We appreciate this tool for its freeness, its ease of use, and also the possibility it offers to convert presentations into PDF, PNG, or even PPTX format. The content of its library is also very interesting and diversified and the possibility of creating slides on different media (tablet, smartphone, and computer) is a great asset!
Rate
Totally free.
Keynote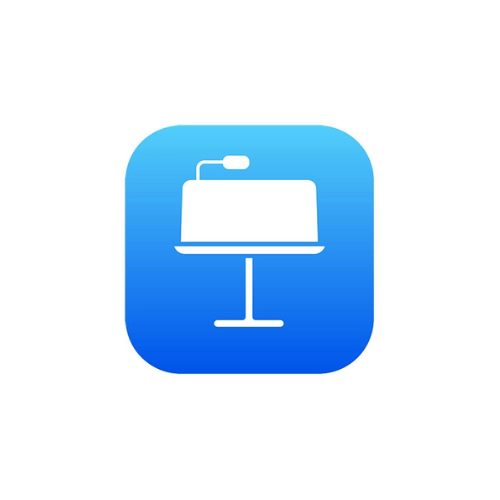 Keynote is free Presentation Software from Apple. This tool, recognized throughout the world, offers the creation of presentations from your device (iPhone, iPad, Mac) and Keynote files are easily converted into PowerPoint files.
Advantages and highlights of Keynote
The tool can be used with the Apple Pencil and handwritten notes are automatically transcribed onto your slides.
Access to advanced features to create diagrams and illustrations while collaborating in real-time with your team.
The library available in the tool includes 30 themes, more than 30 transitions, and effects, and more than 700 pictograms.
What we love about Keynote
We appreciate the interface made in Apple ergonomic and easy to use. Creating original and dynamic slideshows is easy and can even be done in collaboration with non-Apple devices (compatible with PC systems). Finally, the library is rich in content, which improves creativity!
Rate
Totally free.
Powerpoint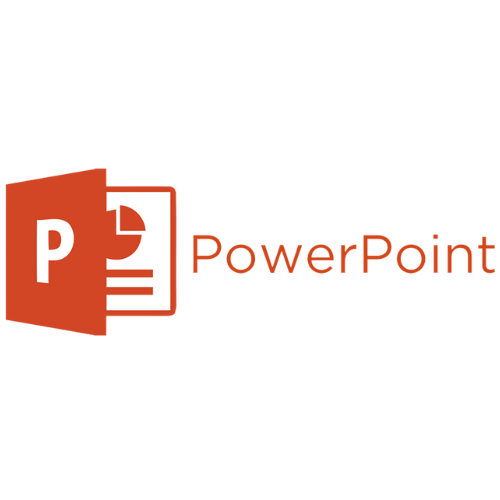 No need to introduce it to you, PowerPoint is THE reference in the world of presentation software. This tool is part of the Microsoft Office suite and makes it easy to create professional slideshows.
Advantages and strengths of PowerPoint
This solution is widely used in higher education, so the vast majority of your employees are already familiar with its operation.
Microsoft regularly carries out updates to improve its functionalities and to offer ever more services (addition of 3D objects, original animations, etc.).
PowerPoint is compatible with all devices, regardless of the operating system.
What we love about PowerPoint
We appreciate PowerPoint, because it is a complete software and ahead of a good number of services. Although it is not available for free, it is still a must-have among presentation slideshow maker tools. Its library is very rich, it is compatible with any medium and its collaborative aspect is powerful.
Rate
From €7/month (Microsoft 365 Personal or Family)
From €4.20/month (Microsoft 365 Business)
A trial version allows you to test the tool for 1 month.
Prezi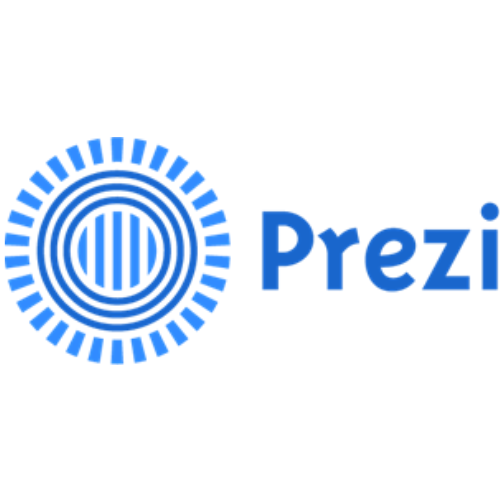 Prezi is a software for creating presentation slideshows that turns the codes upside down with its interactive aspect. The software offers a blank template where you can add and remove your live content as you present, making your meetings dynamic and unique.
Advantages and strengths of Prezi
The collaborative platform is cloud-based which allows collaborators to work together (up to 10) on the same file. But it is also possible to create presentations without an internet connection thanks to the application!
With its Analytics feature, you can study the performance of your online presentations such as time spent by viewers, interactions, etc.
Prezi is compatible with PC and Mac computers, as well as iPhones, iPads, and Android devices.
What we love about Prezi
The big plus of Prezi is the rendering of its unique, dynamic and interactive presentations. We appreciate creating presentations thanks to its rather intuitive drag-and-drop functionality. Its collaborative platform is also very interesting because everyone can work on the same file regardless of its medium.
Rate
From €10/month.
SlideBean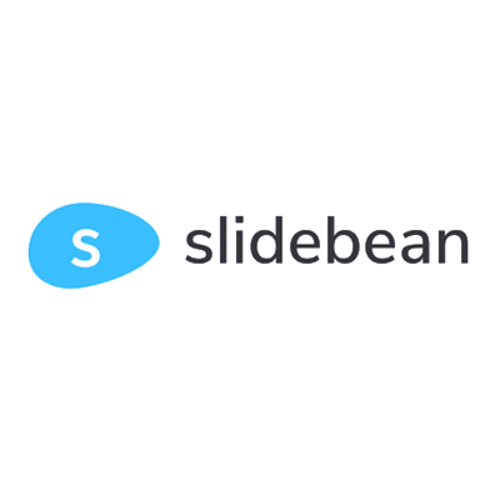 SlideBean is an automated Presentation Software. Creating slides becomes child's play, all you have to do is write your text and select the images and the tool will take care of creating your slideshow!
Advantages and strengths of SlideBean
Save considerable time by letting the tool create your slides: add your content to the presentation and SlideBean takes care of automatically converting it into beautiful slides.
Just like Prezi, the tool provides statistics to measure the impact of the presentation.
Specialized in the creation of Pitch Deck and thanks to its expertise, SlideBean also supports entrepreneurs in the search for investors.
What we love about SlideBean
We appreciate the time saved by the tool and the automatic creation of quality slideshows. But if you prefer to make your presentations yourself, it is also possible thanks to its content library and its templates made available to you.
Rate
From €8/month.
Slides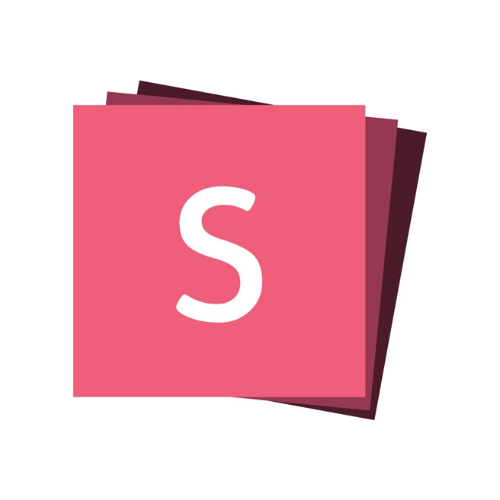 Slides is a modern Presentation Software. Available online, you can create, edit and work on multi-person presentations. Slides are also the only presentation tool with a completely open-source format (JavaScript, HTML and CSS).
Advantages and strengths of Slides
Slides is available in open source format. Thus, developers can design slides and animations in HTML, CSS, and JavaScript.
Working in a team becomes easy with the tool, you benefit from a collaborative space to create your slideshows and even leave comments.
You have the ability to broadcast your presentations to an audience of any size directly in the tool. Your audience can follow your presentation in real-time from any device and anywhere in the world.
What we love about Slides
The advantage of this software is that it automatically saves your changes and is accessible from any computer with Internet access. We also appreciate its complete functionalities for creating, editing, sharing and presenting slides.
Rate
Limited free version
Paid offer from $5/month.
Visme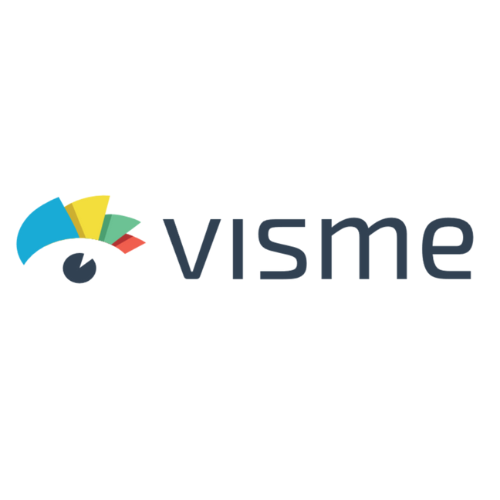 Visme is a Presentation Software, but not only! It also lets you create infographics, social media content, and animations.
Benefits and Highlights of Visme
The library has millions of professional fonts, icons, images, themes and templates, categorized for easy searching.
Your teams can work on their presentation in collaborative mode, and even use the live messaging system to streamline their remote work.
The tool gathers all your content in one place. Work on your infographics, your content for social networks, and your slideshows, on the same platform and stay consistent.
What we love about Visme
We appreciate the library offered by Visme, it provides you with millions of quality content to boost your presentations. The messaging feature is also very useful for working and moving forward more easily with your team.
Rate
A limited free version
Paid offer to start at $12.25/month.
XMind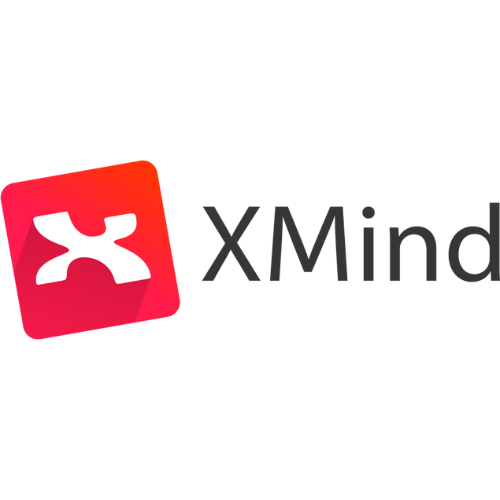 XMind is not strictly speaking software for creating presentation slideshows, but more precisely a tool for creating Mind maps. If you are presented with this tool in our selection of slideshow creation software, it is because it is powerful for designing presentations based on mind maps.
Advantages and strengths of Xmind
A fun and concrete way to present projects to your team thanks to the creation of mind maps.
The tool has advanced features, allowing you to add links, files, icons, and even audio notes to your presentation.
Multi-support, Xmind is compatible with Mac, Windows, Linux & iOS, and Android.
What we like about Xmind
We appreciate its originality and the possibility of creating clear and precise mind maps of projects. The clean and modern design of the tool is very appreciable and its intuitive interface is quickly taken in hand. Its collaborative functionality, but also security, are also among the big pluses of Xmind.
Rate
Starts at $59 per year.
Zoho Show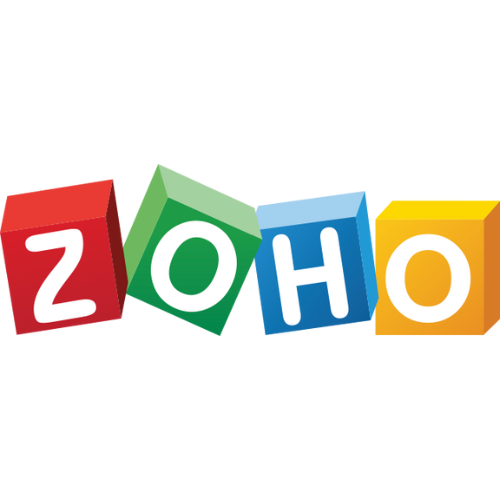 Zoho Show is a comprehensive, collaborative presentation slideshow maker. The tool makes it easy to design professional slides, collaborate with your team, and share creative and engaging presentations.
Benefits and Highlights of Zoho Show
Simple to use and with minimal functionality, the tool can be used by all kinds of users, regardless of their level of experience.
Get inspired by the hundreds of professional templates available in the tool and referenced in categories ranging from marketing to commerce.
Multiple format support lets you import and work on your already existing PPTX, PPT, ODP, PPSX and PPS files without hassle.
What we love about Zoho Show
Zoho Show has all the features needed to create professional presentations. The tool is very easy to use and the many templates available ensure that you never run out of inspiration. Its collaborative part is very popular, especially its contextual comments and live notifications features.
Rate
Free try
Price on request
Presentation Software: An Ally For The Success Of Your Presentations
As you will have understood, the choice of effective and creative presentation software is essential for the success of your slideshows.
By using one of the presentation slideshow creation software from our selection above, you are guaranteed to energize your meetings and engage your audience.