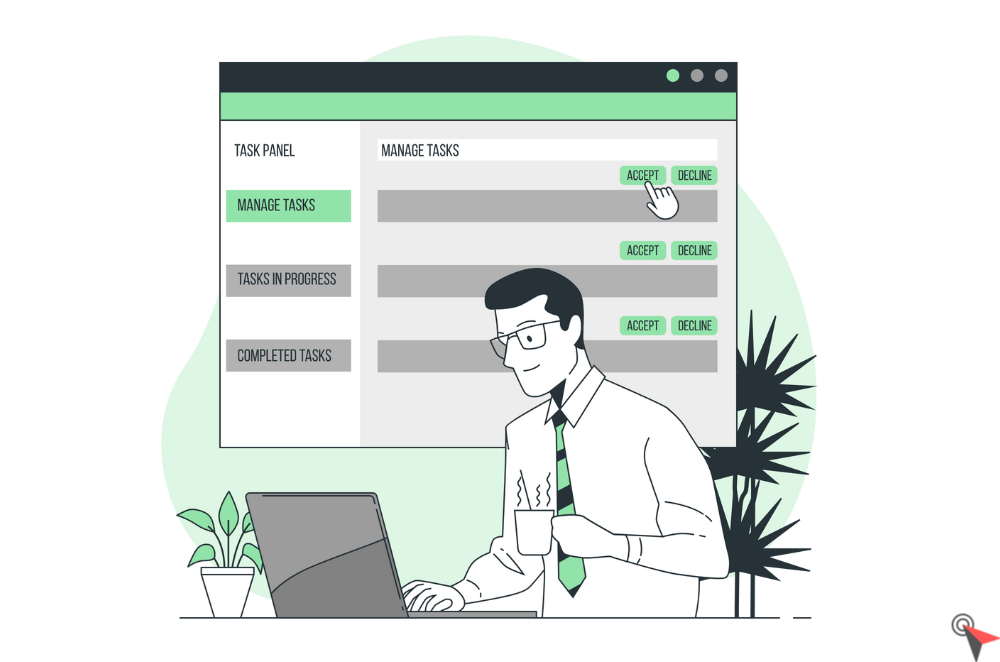 As with many professions, project management skills require managers and teams with specific aptitudes and skills to be able to practice in the best conditions, master their field and perform well in this discipline.
Abilities are innate: a cook who doesn't like cooking or an accountant who doesn't like numbers will find it difficult to distinguish himself in his sector. The same goes for a project manager and his team.
Project management is multidisciplinary, which implies having a certain number of skills. Unlike aptitudes, skills are acquired, developed and perfected through training and practice. This is how you will become an expert in project management.
Here are the 5 essential skills to be effective in project management, whatever your role and responsibilities.
1) Managerial skills
For the project manager
Both, the project manager must be able to effectively manage his team, train and motivate it while organizing the various project tasks.
You must frame and guide your employees, unite them to your vision and give them specific objectives to achieve. It is also essential to value your team, to show recognition, to inspire them and to commit them to the project and to know how to boost their motivation.
As a project manager, listen to your employees, anticipate their needs and support them in difficult times. It is thanks to your management method and your behavior that you will be able to get the best out of your team.
Finally, don't forget to lead by example by being positive, motivated and involved in your work every day. Be rigorous, but avoid falling into micromanagement.
Tools to help you
Some are born managers, others become one. Do not hesitate to follow a training course to learn the basics of management, improve your knowledge or develop new techniques.
2) Organizational skills
For the project manager
As a project manager, you obviously need to be able to coordinate a project, manage a budget and meet deadlines. Know how to plan your project, prioritize the different tasks, manage your priorities, set clear and precise objectives for your team and monitor the progress of the project. To be effective and successful, it is therefore essential to demonstrate organization and methodology.
For the project team
To be productive, project team members must be organized and manage their working time effectively. For this, there are several tools such as timesheets.
Tools to help you
Without a minimum of organization, a project is doomed to failure. Today, there are reliable and powerful tools to help you organize, plan and easily monitor the progress of your projects. An example is the best project management software.
3) Relational skills
For the project manager
The project manager is a diplomat who must listen to his team as well as the project stakeholders. He takes into account the expectations and requirements of the client, he is attentive to the needs of his team, he establishes a climate of trust and he manages conflicts. He is simultaneously a facilitator, a mediator and a negotiator.
The project manager must respect the personality of each member of his team and act fairly, avoiding any favoritism. This is how he will gain respect.
For the project team
Interpersonal skills are also important for the project team so that all members can collaborate effectively together.
Tools to help you
Team building is ideal for uniting a team, improving relations between its members and allowing them to work better together. It's about creating team cohesion and setting up a climate conducive to better collaboration.
4) Good communication
For the project manager and the team
In project management, good communication is essential for success. The project manager must know how to communicate with his team, first to give them clear instructions, precise information and realistic objectives, then to ensure that the project runs smoothly and that everyone has clearly understood their role and his responsibilities.
It is important for the project manager to be transparent with his collaborators. Good communication is knowing how to express yourself clearly, but also knowing how to listen. He must therefore listen to his team. Effective communication will promote a good understanding between all project stakeholders and therefore a good atmosphere within the team. We avoid unsaid words and misunderstandings. The key is less stress and productive collaboration.
Tools to help you
Promote exchanges, use instant messaging and organize effective meetings. Be available and listen to your team, especially by leaving your office door open.
5) Flexibility and adaptability
For the project manager and the team
A project rarely goes as planned. Hazards, problems and unforeseen events arise and shatter your planning and organization. In project management, it is therefore essential to be flexible and adaptable in all circumstances. It is essential to know how to react and bounce back in the face of the unexpected. The project manager and his team must adapt to all situations and know how to get out of the box to quickly find solutions.
Tools to help you
The implementation of risk management makes it possible to anticipate risks and find solutions to prevent them from occurring or to deal with them when they do occur.
Conclusion
Whether you are the manager or part of the project team, it is important to possess, develop and improve these 5 skills in order to have every chance of leading your projects to success.