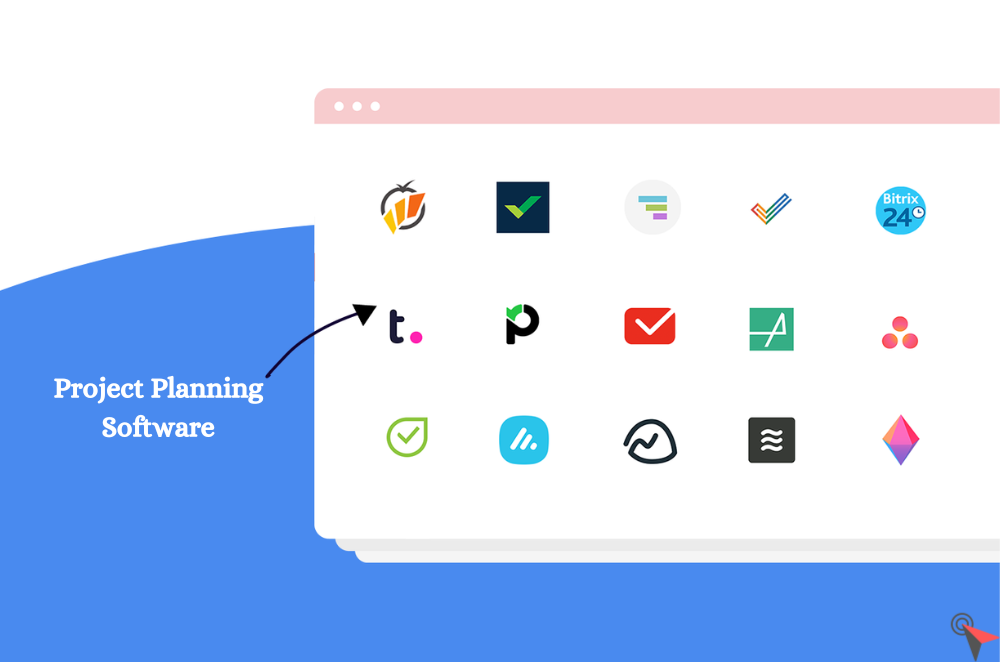 Are you looking to plan one or more projects in an optimal way? We have tested and selected for you the 10 best project planning software to come to your rescue.
What is Project Planning Software?
Project planning software is a tool that will allow you to effectively manage the distribution of tasks for a project. Planning a project means preparing for its proper execution and facilitating collaborative work. Project planning is one of the key phases of project management. It comes after the definition of the objectives.
Planning the project means distributing the workload to the staff within a defined time. It will also be a question of defining all the activities according to the necessary work. Therefore, planning software is a tool that will allow you to perform these tasks in the most efficient way possible.
Management of schedules, allocation of resources, internal messaging… Everything is done in coordination. The idea is to bring all team members together on the same platform in order to fully understand the workflow. Time planning software allows you to have a real-time view of the productivity of employees or customers.
Why use Project Planning Software for my Business?
The purpose of using project planning software is very simple: optimizing employee time. It will save you precious time by offering you particularly well thought-out tools.
One of the best arguments remains centralization. The management channels are multiplied to have only one on arrival. They function above all on transparency which makes it possible to increase team cohesion. Everyone knows what to do, and has a global and clear view of the progress of the project. Dialogue is thus facilitated.
The fact of opening a platform used by all allows not only to better plan your project, but to exchange. In a sequential approach, feedback from other employees is not always easy.
For agile projects, these are one of the best solutions because synchronization with everyone is instantaneous in the event of a redirect. No more endless meetings. Activity tracking is so much easier.
An agile project allows managers to be able to adapt according to absences, holidays, or other scheduling constraints.
If the best project management software generally provides time planning functionality, this is not necessarily the case for all tools. For small teams with projects to complete, very low cost options exist.
How do I choose Project Planning Software for my Business?
Types of planning software
In project planning software, we will find several categories. The most successful remain holistic project management software. They are indeed very complete and their use surpasses that of project planning alone. They can be used in a wide variety of fields.
Others are more thematic, or with a less flexible organization. Some are reserved for certain fields, and are not applicable to all sectors. If your projects are very precisely of this order, however, they will be more effective.
If your company implements a wide variety of projects, the first ones will be more efficient. You can install them locally, or access them online.
Features of time scheduling software
This software offers many features. Initially, prefer those that allow you to have different views for the same project. It is very practical to be able to have several visuals for the same activity. In fact, the operation and use of this tool are maximized.
You will often also be able to generate tracking graphs of your activity. Time and resource tracking are very effective tools for planning your activity.
Don't overlook connectivity. Whether via private messaging, comment systems, or in the integration of other applications, connectivity is essential. No matter where the user connects, he will be able to access synchronized, efficient and rapid information.
How much does project planning software cost?
The cost of project planning software varies widely. You can find many free versions with basic features. Most offer degressive monthly subscriptions depending on the features made available.
Medium-sized teams will do just fine. For large teams, tailor-made options with wholesale invoicing are to be requested on quotation.
The Ranking of the Best Time Planning Software
ChallengingVoice
In project planning, ChallengingVoice specializes in organizing your business, while including payment features. It is aimed at all types of teams who want to move forward together in a project.
For planning, several modules are integrated. From Kanban boards to the calendar view, including lists and tracking sheets: everything is there for optimal management. You will be able to subdivide the tasks and assign them to several people, and associate alerts to them. Gantt charts are feasible to better follow your project.
Other advanced management or forecasting functions are planned. Templates are pre-included in the software for a very quick start. The software comes with a number of integrations including Google Calendar, Google or Slack.
Here are the different ChallengingVoice prices after the 15-day trial :
Free for 10 users 100 task limit, all views, desktop and mobile apps, integrations
Points forts
Very clear
Functional
Advanced features
Available in 22 languages
Weak points
Very large business options
Monday
If Monday reaches the top of this list, it is surely one of the best project planning software there is.
Small or large, your team will find everything they need in this software. Remotely or at the office, you can simply use it from anywhere to get a clear idea of ​​the tasks to be performed and the progress of the project.
Before you start, you will be able to choose the theme of your activity and from 200 project templates. The scheduling functions are absolutely comprehensive. Monday is the project tracking software that succeeds par excellence in combining the completeness of its features and ease of use.
Its UX and UI are impeccable, even a beginner can handle it very easily. In terms of functionalities, we find everything that project planning needs: the different views, the assignment of tasks, the close monitoring of activities and the progress of the project.
Interconnectivity is not left out, you will have integrated messaging available. Its other big strong point: its integrations. They are very numerous and very practical to synchronize your work.
You can test Monday for free for 14 days. Then there are 5 packages to choose from:
Lifetime Free Task Scheduler for 2 Users (Individual)
40€ per month for 8 users (basic)
50€ per month for 10 users (standard)
80€ per month for 16 users (pro)
Customized for companies (company)
Not all features are available for all plans : access for guests, Zoom integration, deadline view, calendar view, deadline tracking or diagram view are all features that are available after the standard version.
Monday is certified by GDPR, ISO 27001, ISO 27018, AICPA SOC, and HIPAA.
Points forts :
Very easy to use
Colorful and intuitive
Many features
Multiple integrations
Automated tasks
Tested and approved by many customers
Free version
Weak points:
Paid version may be necessary to fully exploit it
More competitive pricing for small and medium structures than for large structures
Wrike
With 15 years of experience, Wrike is a very agile tool, focused on achievement and results for your team.
Wrike is primarily intended for companies looking to plan their projects efficiently. Easy to use and colorful, it allows you to have a good grip and distribute the workload efficiently.
Companies looking for versatility and centrality will be delighted with this tool. Close monitoring is made possible by high- performance and precise tools. Sharing is possible to advance teamwork. The main idea is to integrate all the data on a customizable dashboard.
A very practical comment system. Everything is very secure and encrypted. The integration of transverse applications is very good. You will find the G Suite, social networks, MailChimp, Salesforce, Creative Cloud or even integrated business software such as SAP or Github.
Outside the test period, here are the prices of the different subscriptions offered:
Free team planning software for basic features for an unlimited number of users and 2GB of storage
Professional at $9.80 per month per user plus dashboards, interactive Gantt charts, 1 to 2 GB of storage space per user
Business at $24.80 per month per user with automation engine, request form and calendars, time tracking and many others, 5 GB of storage per user
Enterprise version, Pinnacle, Marketing teams or professional services on estimate
Points forts
Versatile management
Precise and personalized follow-up at all stages
Customizable
Special companies
Free version
Weak points
Teamleader
Created in 2012, this Belgian company has already satisfied many customers. It provides management solutions for a very interesting SME activity.
Teamleader actually offers two products. The first is Teamleader Focus, for companies with 1 to 20 employees. This option includes all the features needed for project planning from A to Z.
First, you can manage your customer and prospect relationships by adding them. This feature can be synchronized with Outlook, Gmail, MailChimp, or even LinkedIn. In the interface, you will have a column with several categories to plan your projects. This action can be done via a calendar view. Overall, the handling is easy and the software is ergonomic.
Several prices are available:
Go version at 15€/month per user with the contact grid, products, integrations, quotes and invoices, tasks, calls and meetings and 11€ from the 6th user
Move version at 20€/month per user with all basic planning features, time tracking, project calendar, payment reminders and 15€ from the 6th user
Boost version at 30€/month per user with advanced features such as financial forecasts, ticket system, Cloud Project and 23€ from the 6th user
Teamleader Orbit is the other product of the brand. It is intended for larger companies with up to 1,000 employees. The planning of your projects, large or small, will be flexible. The planning integrated into Teamleader Orbit is very clear, and will allow you to organize all your activities in the blink of an eye.
With this version, you will have access to many reports, including the progress and the use of the budget. One price: €50/month per user with at least 10 users. You can always contact the team for a personalized quote.
Points forts
Offer adapted to all company profiles
Easy to handle
Resource management
Customer approach
Weak points
Teamwork
Teamwork is another excellent project planning software. It is specially designed around the partner-client relationship.
With Teamwork, it is easy to plan a project in a completely harmonized way. Everyone will find their place in this project planning software. Easy to use, it is ergonomic and complete.
The advantage is that your customers will be able to follow the progress of the project very closely. This software is therefore perfect for teams that are focused on achieving results.
With this software, it is possible to allocate tasks very easily and therefore to plan the entire project upstream. Its realization will be facilitated with many monitoring tools such as diagrams, a dialog box, or budget monitoring.
Pre – planning, like real-time planning, is therefore facilitated with agility. Stay connected with your colleagues via integrated messaging. Many applications are integrated into it. We find everyday ones like the G suite, Outlook, Teams and many others.
For the trial version, you will have a period of 30 days free. Then several versions are to choose from:
Lifetime free project planning software for less than 5 users and basic features (messages, milestones, standard task management)
10€ per month for at least 3 users with models, time tracking, agile views, unlimited access for clients, collaborative documents
18€ per month for at least 5 users with all the features of the previous version and other advanced customization options
The personalized version, prices available on contact
Points forts
Easy to use
Affordable
Interface client
Very many features
Free version
Weak points
Social media integrations
Favro
Favro is built around collaboration, while being accessible remotely. It is therefore powerful for companies that are growing in remote work.
Favro can be used in project teams, between teams of different projects, by management, but also with external partners. By bringing all these actors into the loop, project planning becomes efficient and nothing is forgotten. The risks of misdirection are diminishing.
Favro comes in the form of tables, backlogs and built-in Kanban for more flexibility. You will be able to follow the activity closely by structuring, prioritizing the tasks. It is also possible to create overviews to better follow the general progress of the project.
The calendar function is integrated in order to better organize your work. The comments function and the work on shared documents are a plus.
Favro received 3 awards from SPRING in 2021 : best achieved goals, easiest to use, highest user adoption.
To test it, you will have 14 days. Then, several packages are offered. You will have the choice of annual or monthly billing and the price changes according to the number of users:
The Lite version between $10.2 (2 users) and $600 (100 users) per month with basic functions, 5 collections and unlimited dashboards
The Standard version between $13.6 (2 users) and $800 (100 users) per month with unlimited collections, guest accounts, etc.
The Enterprise version between $25.5 (2 users) and $1500 (100 users) per month with all the advanced options
For companies with more than 100 users, Favro must be contacted directly to obtain a quote.
Points forts
Easy to use
Tables and collections as a basic medium
For any type of project
Comments and shared files
Weak points
Toggl
If you are looking for an easy-to-use tool with a very good quality/price ratio, Toggl is the solution. This online application allows you to manage small to medium teams to optimize your activity. It allows you to save considerable time. Toggl offers a portfolio of 3 products.
The best for project planning is the Toogl Plan. It provides a lot of powerful tools to distribute the workload. Employees do not lose sight of their personal goals and the work is particularly efficient.
The features included: time tables, work distribution, flexibility in tasks, zooms, coordination with customers. You can also find this content in the mobile app.
Toggl received 3 awards in 2021 : best software of G2's Top 100 software products in 2021, the Leaders category of GetApp, and the best software of G2's Top 50 for HR software.
For prices, several annual or monthly formulas that you can try for free for 14 days:
Team Version $8 per user per month on annual plan or $9 on month plan with 100MB storage, unlimited time boards, unlimited boards, notifications, automations, integrations
Business version at $13.35 per user per month annual version or $15 for the monthly plan with all advanced features
Points forts
Excellent value
Access to project planning
Appli mobile
Schedule management
Weak points
Free version
Larger enterprise version
Asana
Asana is one of the best task scheduling tools. Its efficiency is renowned because the platform has a very large number of and its efficiency is renowned. Whether for small tasks, or for large projects, you will find a suitable solution. It will be very useful for you to plan your project in an organized way.
Several functionalities on tasks are interesting: attribution, deadlines, import of. You will easily stay in touch with your teammates via internal messaging.
You will be able to plan in list, board, timeline or calendar view. Custom options are available for a bespoke process, as are automations.
Asana's integrations are plentiful and will make it easier for you to sync tasks and narrow down channels. You can decide to easily integrate Google Calendar, DropBox, Slack, Sharepoint, and many other applications.
In terms of price, Asana offers a 30-day trial period for its various subscriptions .
Free planning software includes basic functionality with tasks, messages, unlimited projects, project overview
The premium version is at 10.99€/month annual subscription or 13.49€/month monthly subscription with chronological follow-up, process generator, advanced searches, personalization, milestones
The business version at €24.99/month annual subscription or €30.49/month monthly subscription plus portfolios, objectives, reviews
A tailor-made enterprise version is offered on contract
Non-profit organizations will benefit from a 50% reduction.
Points forts
Recognized platform
Multiple views available
Easy and intuitive
Very good interconnectivity
Reduction associations
Free version
Weak points
Zoho Workerly
If you are a temp agency, Zoho Workerly is for you. It is specially designed for the management of clients and temporary workers. It allows you to work with precision without losing efficiency. Since you will have to manage a lot of data, it is important that everything is combined on a single interface.
You will be able to plan the activity of your temporary workers in a completely optimal way. Its great advantage is the centralization of the activity. You will not disperse the profiles, and can assign them to the best mission. The interface allows you to access information on the profile of your temporary workers, your clients, and the missions offered.
Information about new assignments is transmitted very quickly, and your temporary workers will be able to respond quickly. This is done from their space that you will make available to them. The advantage is to make their history visible and to have personalized access. Billing and reporting can also go through the app.
The price is set according to the number of temporary workers you wish to take into account. The price is €52 per 25 temporary workers/month for an annual subscription, and €59 for a monthly subscription. You will be able to test Zoho Workerly for 15 days.
Points forts
Manager and temporary space
Easy coordination and synchronization
Time saving
Appli mobile
Features up to activity tracking and billing
Weak points
Trello
Whether you are a freelancer or the manager of a large company, you can use Trello for your project schedules. It offers good overall tools with dynamic interfaces. It is very easy to handle and will suit even beginners.
Its presentation is quite ergonomic because there are columns in a large digital table. These columns indicate to-do lists. These are provided with colored stickers depending on the actions to be performed on them. Everything is agile because you can adapt the distribution of the workload according to your progress.
Timeline, calendar and statistics generation are the other features of Trello. Automations are also possible. It also offers good integration with applications such as Google Drive, Evernote, Slack or Dropbox.
For pricing, Trello offers several plans:
Free version with 10 workspace boards, unlimited maps, unlimited storage, assigning managers and deadlines
Standard at $5/month per user, unlimited tables, advanced checklists, custom fields
Premium at $10/month per user with dashboard view, chronogram, calendar, plan, collections, observers
Business at $17.50/month per user (decreasing rate), unlimited workspace, several guests per board, management of public boards, attachment permission
It is possible to try the Premium version for 14 days.
Points forts
Multiple views available
Very easy to spot colorful post-its
Ergonomic
Degressive rate for companies
Weak points
FAQs:
What are the stages of project planning?
For the planning of a project, it is necessary to have in mind the objectives to be organized. Then, it will be necessary to divide the activities according to human, material and budgetary resources. It is often the role of the project manager who oversees everything. Such a planning tool is suitable for both a VSE and an SME.
Planning can be done as it progresses. It will be a question of adapting and using agile methods to reprogram activities. Hence the need to work with efficient and flexible project planning tools to save time in reprogramming. Everyone is on the page with just one click.
What is the Gantt chart?
The Gantt chart is a graph that shows the progress of the project. The abscissa axis will represent the progress of the time over which the project takes place. The ordinate axis will be used for the different tasks. The result is a pretty colorful set of horizontal sticks.